The "French Touch" in your business relations !
"Route des souvenirs" offers you its 2CV fleet for your groups/incentives activities :
"Route des souvenirs" is an original and exclusive way to see the French Alps in the ultimate cult car symbolizing the "French touch". Escape the masses! Discover internationally renowned ski stations such as Chamonix, historic cities such as Annecy and elegant spa towns at Lac du Bourget in a truly and personalized manner aboard your very own 2CV. The perfect idea for your groups/incentives activities.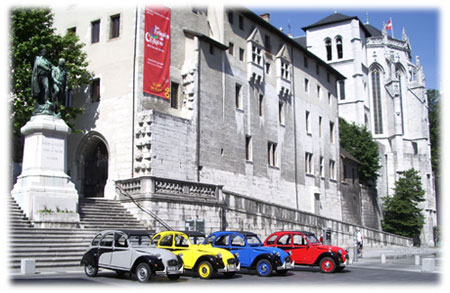 Rent our 2 CV to ...

• Celebrate a special event !
Birthday, wedding, bachelor/bachelorette party, family, company reunions, ...
• Impress your clients !
The perfect cars for a congress, reunions, seminars, ...
• Entertain a group !
Friends, family, associations, comities, co-workers, ...
• Attract and Promote !
Use our 2CV for advertising and communication projects ! Attract clients, customers, companies !
• Feel like a king or queen !
4***Restaurants, Hotels, ... in style !