2CV and France
A love affair ...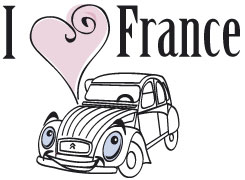 The "Route des souvenirs" philosophy :
Our mission is very simple, give you the opportunity to discover or rekindle the joys of postwar France and the years of the "trente glorieuses" through the eyes of your very own Citroen 2CV.

Back to a time when a simple and popular, yet "smart" car, meant so much for the French People. The start of something new, dreams and discoveries, travel plans, a feeling of liberty with friends and family...

Of course, technology has had a great impact on the comfort, security and power of today's cars, unfortunatly leaving behind a more human touch that can still be found in our 2CV.

The "Route des souvenirs" team invites you to explore the fascinating popular culture and numerous wonders of France aboard this mythical car.

You will discover a part of our history, culture, a douceur de vivre that you will bring back home.

Our philosophy conveys our desire to provide you with an extraordinary adventure.

Our staff and founder, Gilles Monod, work year round to refine our itineraries to offer the best in alpine 2CV riding combined with the most atmospheric accommodations, inspired regional cuisine, and expert leadership.