Our 2CV, our "Old Ladies" !
Every 2CV of our fleet has a truly unique history... and we were quite surprised by the stories and different reactions of all the previous owners of these cars.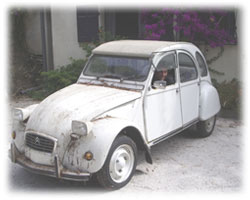 To constitute a fleet of 20 brand new 2CV, first we had to acquire them...
The "Route des souvenirs" team traveled all over the country to find 2CV with specific criterias that had to be respected :

• Disc brakes, for maximum security.
• Still running, to use the mecanical parts of the cars.
• Original 2CV, to preserve the authenticity of the cars.

Because it's our goal to preserve the authenticity and the human touch of these mythcial cars !

Rust can be the biggest enemy of any car owner, as it can deface even the most beautiful of cars, such as the 2CV. At "Route des souvenirs" we use a galvanizing process that provides a metallic protective barrier to the underlying steel, as galvanizing delivers unparalleled performance over other corrosion protection methods.
Take a few minutes to read the next pages as you will discover how we restored from A to Z all these 2CV. And for the curious one's, you will also learn a thing or two about the history of these magnificient cars.